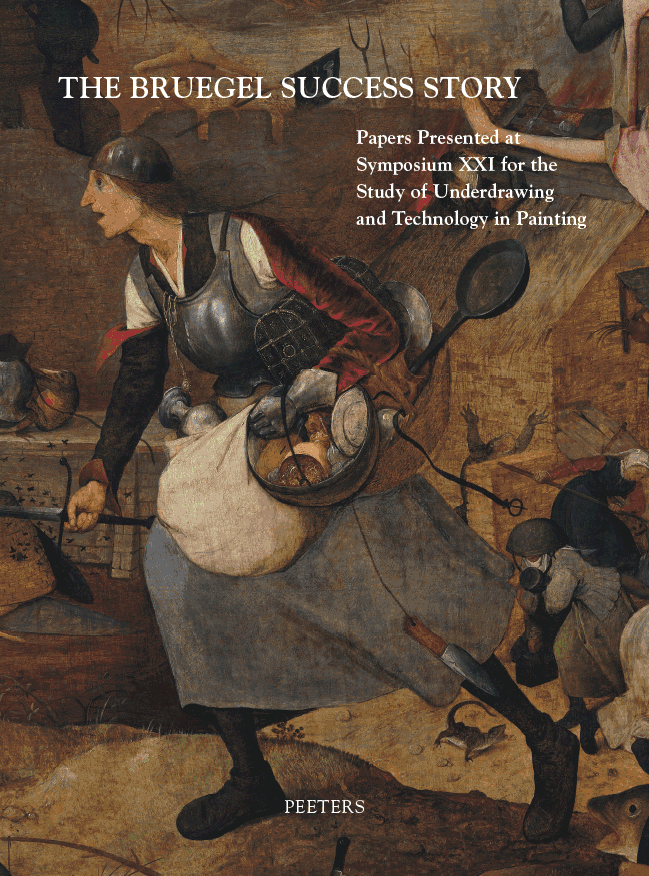 The 450 anniversary of Pieter Bruegel the Elder's death, in 2019, ushered in many exciting projects to commemorate the milestone. Perhaps none as rich and diverse as this conference and accompanying 550-page monograph, which included groundbreaking papers on all aspects of the Bruegel family.
I was fortunate to attend the conference and can happily replace my scribbled notes and crude drawings created when seated in the audience with this exquisite monograph.  It is perhaps the most beautifully illustrated Bruegel monograph based on conference papers that I've ever seen.  Many of the Bruegel paintings reproduced in the monograph were recently cleaned and restored, which the monograph fully captures with large, rich illustrations.  Not only are the paintings themselves reproduced, but enlarged details of critical sections of the paintings are featured. 
The monograph's first section includes a series of articles on the newly restored Dulle Griet, done in preparation for the Bruegel exhibition at the Kunsthistorisches Museum in Vienna in 2018 -19, in conjunction with the Museum Mayer Vanden Bergh in Antwerp, where the painting hangs.  The conference brought to light that Dulle Griet was likely transferred from cartoon tracings after Bruegel carefully worked out the picture on other media.  The recent cleaning of the panel has uncovered that many of the painting's pigments have faded or darkened.  The cleaning exposed a vital missing feature of the painting, the date of execution of the work.  A fascinating essay details a colored drawing of Dulle Griet, housed at the Kunstpalast, Dusseldorf.  The drawing helps convey the painting's original colors which have faded over the years.  The analysis of the paper on which the drawing was rendered revealed a watermark from no earlier than 1578, confirming its status as a copy. 
The second section of the monograph is devoted to a group of papers related to Pieter Bruegel the Elder and his practices.  Groundbreaking scholarship considers Bruegel's paintings on distemper on lined canvas (Tuchlein), a format which Bruegel was one of the last to utilize.  Essays on The Adoration of the Magi (in the Royal Museum of Fine Arts, Belgium), by Veronique Bucken, provide intriguing details about this format of painting. 
Bruegel used a variety of methods to paint his monumental panel paintings.  For example, compared to Dulle Griet, the Detroit Wedding Dance, was drawn free hand using an "extensive and vigorous drawing with numerous adjustments to the modeling and shading of the figures, but not the composition as a whole."  Another surprise is the finding that the Wedding Dance was altered from its initial composition size through the addition of a top border.  This is discussed in an intriguing paper by Marie Postec and Pascale Fraiture that compares the Detroit version with a little studied copy after Bruegel the Elder in Antwerp. 
The third section of the monograph is devoted to Jan Brueghel, son of Pieter the Elder.  Several essays review the difference between Jan and his elder brother, Pieter the Younger, in terms of creating copies after their father's works.  Elizabeth Alice Honig's "Copia, Copying and Painterly Eloquence," describes Jan Brueghel the Elder and the notion of copia, as articulated for a Renaissance audience by Erasmus in his De Copia.  In Uta Neidhardt's paper, "The Master of the Dresden Landscape with the Continence of Scipio: A Journeyman in the studio of Jan Brueghel the Elder?" identifies two different "hands" working in Jan Brueghel's studio.  The essay is important because so little is known about those painters that worked in proximity to Jan's studio. The essay remarks on the difficulty in assigning works to specific studio hands.  (An issue that was on display just last month, when Christie's sold a work dated 1608 stamped in copper by "Pieter Brueghel III," owning to what is undoubtedly a spurious signature.)  Larry Silver's essay "Sibling Rivalry: Jan Brueghel's Rediscovered Early Crucifixion," focuses on the difference between Jan the Elder and Pieter the Younger's treatment of a lost composition of Pieter the Elder.  As can be seen frequently in the brother's work, Jan the Elder creatively re-invents works based on his father's design, while Pieter the Younger copies his father's works in a fairly precise manner. 
Section four investigates Bruegel's network and legacies. The question of who painted some of the works after Bruegel the Elder's untimely death in 1569 and his sons first paintings decades later remains a key mystery yet to be solved. Intriguing essays related to Bruegel's networks, contracts and connection to homes and studios in Antwerp help put pieces of the puzzle together. Lost works like The Heath allow us to ponder questions of authorship and the number and varieties of copies made (most likely) by non-Brueghels.
The Bruegel "craze" of the early years of the 1600's and the aftermath of Bruegel's death is also covered in this section, which details the many ramifications of the aftermath of Bruegel The Elder's untimely death.  The monograph is rife with intriguing aspects of Bruegel's legacy, including "Peasant Passions: Pieter Bruegel and his Aftermath" (Ethan Matt Kavaler) and "In Search of the Bruegel's Family Homes and Studios in Antwerp" (Petra Maclot). 
The devotion of eight pages to the restored Dulle Griet in an addendum of the monograph speaks to the exquisite care taken to showcase the paintings of Bruegel and his family. 
That the quality of the monograph, with all of its finely detailed images, matches the uniformly high quality of the papers within, is a testament to the care that went into creating this handsome volume.  It is wonderful that the conference papers are presented in such rich surroundings. 
The full table of contents of this stunning monograph is below:


A blockbuster conference containing the latest research on the Bruegel / Brueghel family of painters is being held this fall in Brussels.  Many of the leading Bruegel scholars are presenting new findings related to the Bruegel dynasty.
Discoveries related to the Bruegel clan – including patriarch Pieter the Elder, sons Pieter Brueghel the Younger and Jan Brueghel the Elder and other members of the family – will be presented at the symposium.  One of the highlights will be presentations related to Pieter Bruegel's "Dulle Griet," a painting in Antwerp which has recently undergone extensive investigation, research and cleaning.
The Bruegel / Brueghel clan continues to be top draws at museums and set records at auction (including toping high estimates at this week's Old Master's auctions in London).
Registration is open now for this impressive symposium.
More information and registration at http://conf.kikirpa.be/bruegel2018/.
————————————————————————–
Conference Venue: Royal Museum of Fine Arts of Belgium, Place du Musée, B-1000 Brussels.
THE PROGRAM
12 September 2018, WEDNESDAY
9:00 – 9:45 Registration at the Royal Museums of Fine Arts of Belgium
9:45 – 10:00 Welcome by Hilde De Clercq, director of the KIK-IRPA and Michel Draguet, director of the Royal Museums of Fine Arts of Belgium
CHAIR Lieve Watteeuw
10:00 – 10:40 KEYNOTE LECTURE: Leen Huet, The Surprises of Dulle Griet
10:40 – 11:00 Larry Silver, Sibling Rivalry: Jan Brueghel's Rediscovered Early Crucifixion
11:00 – 11:20 Véronique Bücken, The Adoration of the Kings in the Royal Museums of Fine Arts of Belgium: Overview and new perspectives
11:20 – 11:30 Discussion
COFFEE BREAK 11:30 – 12:00
CHAIR Dominique Allart
12:00 – 12:20 Yao-Fen You, Ellen Hanspach-Bernal, Christina Bisulca and Aaron Steele, The Afterlife of the Detroit Wedding Dance: Visual Reception, Alterations and Reinterpretation
12:20 – 12:40 Manfred Sellink, Marie Postec and Pascale Fraiture, Dancing with the bride – a little studied copy after Bruegel the Elder
12.40 – 13.00 Mirjam Neumeister and Eva Ortner, Examination of the Brueghel holdings in the Alte Pinakothek/Bayerische Staatsgemäldesammlungen, Munich
13:00 – 13:10 Discussion
LUNCH BREAK 13:10 – 14:30
CHAIR Elizabeth Honig
14:30 – 14:50 Amy Orrock, Jan Brueghel the Elder's Oil Sketches of Animals and Birds: Form, Function and Additions to the Oeuvre
14:50 – 15:10 René Lommez Gomes, Regarding the Character of Each Animal. An essay on form and colour in non-European fauna painted by Jan Brueghel the Elder
15:10 – 15:30 Uta Neidhardt, The Master of the Dresden "Landscape with the Continence of Scipio" – a journeyman in the studio of Jan Brueghel the Elder?
15:30 – 15:40 Discussion
COFFEE BREAK 15:40 – 16:10
CHAIR Bart Fransen
16.10 – 17.10 Christina Currie, Steven Saverwyns, Livia Depuydt, Pascale Fraiture, Jean-Albert Glatigny and Alexia Coudray, Lifting the veil: The Dulle Griet rediscovered through conservation, scientific imagery and analysis
Christina Currie, Steven Saverwyns, Sonja Brink, Dominique Allart, The coloured drawing of the Dulle Griet in the Kunstpalast, Dusseldorf: new findings on its status and dating
Dominique Allart and Christina Currie, Bruegel's painting technique reappraised through the Dulle Griet
17:10 – 17:20 Discussion
18.00 Opening reception in Brussels Town Hall (Gothic and Marriage rooms)
13 September 2018, THURSDAY
9:00 Doors open
CHAIR Ethan Matt Kavaler
9:30 – 10:10 KEYNOTE LECTURE: Elizabeth Honig, Copia: Jan Brueghel and the Rhetoric and Practice of Abundance
10:10 – 10:30 Yoko Mori, Is Bruegel's Sleeping Peasant an Image of Caricature?
10:30 – 10:50 Jamie Edwards, Erasmus's De Copia and Bruegel the Elder's 'inverted' Carrying of the Cross (1564): An 'abundant style' in Rhetoric, Literature and Art?
10:50 – 11:00 Discussion
COFFEE BREAK 11:00 – 11:30
CHAIR Leen Huet
11:30 – 11:50 Tine Meganck, Behind Bruegel: how "close viewing" may reveal original ownership
11:50 – 12:10 Annick Born, Behind the scenes in Pieter Bruegel's success story: the network of the in-laws and their relatives
12:10 – 12:30 Petra Maclot, In Search of the Bruegel's Homes and Workshops in Antwerp
12:30 – 12:40 Discussion
LUNCH BREAK 12:40 – 14:40
CHAIR Christina Currie
14:40 – 15:00 Lieve Watteeuw, Marina Van Bos, Joris Van Grieken and Maarten Bassens, 'View on the Street of Messina', circle of Pieter Bruegel the Elder: Drawing techniques and materials examined
15:00 – 15:20 Maarten Bassens, "Diet wel aenmerct, die siet groot wondere". Retracing Pieter Bruegel's printing press(es) by means of a typographical inquiry
15:20 – 15:40 Edward Wouk, Pieter Bruegel's Subversive Drawings
15:40 – 15:50 Discussion
COFFEE BREAK 15:50 – 16:20
CHAIR Valentine Henderiks
16:20 – 16:40 Jürgen Muller, Pieter Bruegel's "The Triumph of Death" revisited
16:40 – 17:00 Jan Muylle, A lost painting of Pieter Bruegel, The Hoy
17:00 – 17:20 Hilde Cuvelier, Max J. Friedländer's perception of Bruegel: Rereading the connoisseur with historical perspective
17:20 – 17:30 Discussion
14 September 2018, FRIDAY
9.00 Doors open
CHAIR Manfred Sellink
9:30 – 10:10 KEYNOTE LECTURE: Ethan Matt Kavaler, Peasant Bruegel and his Aftermath
10:10 – 10:30 Christina Currie and Dominique Allart, The creative process in the Triumph of Death by Pieter Bruegel the Elder and creative solutions in two versions by his sons
10:30 – 10:50 Anne Haack Christensen, David Buti, Arie Pappot, Eva de la Fuente Pedersen and Jørgen Wadum, The father, the son, the followers: Six Brueg(h)els in Copenhagen examined
10:50 – 11:00 Discussion
COFFEE BREAK 11:00 – 11:30
CHAIR Dominique Vanwijnsberghe
11:30 – 11:50 Lorne Campbell, Bruegel and Beuckelaer: contacts and contrasts
11:50 – 12:10 Patrick Le Chanu, Pieter Bruegel the Elder and France
12:10 – 12:30 Daan van Heesch, Hercules et simia: the Peculiar Afterlife of Bruegel in Sixteenth-Century Segovia
12:30 – 12:50 Francesco Ruvolo, The Painter and the Prince. Abraham Brueghel and Don Antonio Ruffo. Artistic and cultural relations in Messina from the seventeenth century. With unpublished documents
12:50 – 13:00 Discussion
LUNCH BREAK 13:00 – 14:30
CHAIR Véronique Bücken
14.30 – 14.50 Lucinda Timmermans, Painted 'teljoren' by the Bruegel family
14:50 – 15:10 Pascale Fraiture and Ian Tyers, Dendrochronology and the Bruegel dynasty
15:10 – 15:30 Jørgen Wadum and Ingrid Moortgat, An enigmatic panel maker from Antwerp and his supply to the Brueghels
15:30 – 15:50 Ron Spronk, Elke Oberthaler, Sabine Pénot, and Manfred Sellink, with Alice Hoppe Harnoncourt, The Two Towers: Pieter Bruegel's Tower of Babel panels in Vienna and Rotterdam
15:50 – 16.00 Discussion
16:00 – 16:10 Closing Remarks: Christina Currie and Dominque Allart
A review of "Pieter Bruegel" by Larry Silver, Abbeville Press, 2011
The images created by Bruegel come thrillingly to life in this Abbeville Press monograph.  This handsome volume, written by Larry Silver, Farquhar Professor of Art History at the University of Pennsylvania, puts forward new insights into Bruegel and the time in which he lived.   Silver set out to document Bruegel's output in prints, drawings and paintings by focusing on patterns and areas of interest common to these diverse media.  Silver places Bruegel in the social and historical context of his time, as a commentator of the religious and political unrest occurring in the Netherlands during his short lifetime.  Silver also includes information not typically found in other Bruegel monographs, documenting the rise of Bruegel scholarship at the end of the nineteenth century, when the new country of Belgium began to look for a native artist to celebrate.
Silver's first chapter focuses on "Chris Carrying the Cross," recently made into the fascinating film by Lech Majewski and discussed in a previous blog entry.  This chapter is an excellent companion piece to the film, setting Bruegel's work in the context of Rogier van der Weyden, who lived before Bruegel, as well as Bruegel's contemporaries such as Joachim Beuckelaer.  For Silver, "Christ Carrying the Cross" showcases Bruegel's range of expression found in his earlier prints, as well as pointing the way to his groundbreaking final paintings, which break with the traditional staging of peasant and religious scenes.
Other chapters cover Bruegel's life in Antwerp, his prominent patron Nicolaes Jonghelinck and his time with print maker (and future father-in-law) Hieronymus Cock.  In a chapter on Bruegel as the "second Bosch," Silver describes a fascinating transition between the "Bosch" brand, which Bruegel used early in his career, to the "Bruegel" brand, which was not only used by Bruegel but continued by his son and followers for generations.
Silver's chapters on religion and tradition include an analysis of Bruegel's ongoing interest in soldiers and weapons, placing Bruegel's art in the broader context of earlier German images of important battles, such as the Battle of Pavia, which clearly had a significant influence on the artist.
It is inevitable that a Bruegel monograph would include a section on peasant labor and leisure, but Silver manages to put an interesting new spin on this oft covered subject.  Building on Alison Stewart's recent work, Silver shows Bruegel continuing and expanding the tradition of scenes found in German woodcuts.  The fascinating scholarly debate between whether Bruegel's treatment of peasants was sympathetic or moralistically critical is covered well by Silver.
One of the aspects of the monograph that I enjoyed the most was Silver's careful treatment of lost works by Bruegel that have come down to us through copies by his sons.  Silver rightly points out that these lost works deserve robust, careful consideration in the context of original Bruegel's that survive and should not be discounted as is typical in other Bruegel monographs.  Paintings such as "Wedding Procession" and "Visit to a Farmhouse" are two examples where only copies survive, but nevertheless are important components of the Bruegel oeuvre.
The final chapter, which details Bruegel's legacy, includes an analysis of works by his sons, as well as those who copied or even forged Bruegel's works.  Silver sees this as Bruegel coming to assume a similar status as Bosch, where "Bruegelian" images and themes were adapted and repeated to great commercial success.  Silver concludes the monograph by highlighting how no single scholarly consensus has emerged for Bruegel.  Rather, he is viewed through the prism of the agendas of scholars who study him.
This monograph is highly recommended.